Are you ready to play the extremely fun 33-step game of having more than one child??  Awesome!  Unfold that game board, rub your hands together enthusiastically and let's get started!
Ready?  Set?  Go!!!
1.) START!  Second child comes out of body.  (Most often vaginally or C-section but would love to hear stories!  Intestinal birth?  Sprung fully formed from head?  Email me!)
2.) Child sleeps in two-hour increments for the first 2 ½ months. Lose a turn!
3.) Younger child is colicky and continually wakes up older child due to crying. Lose a turn!
4.) You develop debilitating post-birth sciatica which is not helped by the fact that your body cannot heal because you are never able to sleep more than 2 hours at a stretch. Lose two turns.  Pay $500 to various chiropractors and physical therapists.
5.) STAY WITH IT, YOU WERE TOLD GAME GETS BETTER.
6.) Breast feeding not magical. Lose a turn.
7.) Older child needs more attention than you currently have. Lose one turn, most of your sanity, and 1/3 of your hair due to postpartum shedding.
8.) Get postpartum depression from all your lost turns—not the terrible kind where you want to send yourself and the baby over Niagara Falls in a barrel because you're no longer able to feel joy, but still, postpartum depression is postpartum depression. Lose a turn and then get more upset about the additional lost turn so lose another turn.
9.) 20 POINTS FOR NOT PUTTING YOUR HEAD THROUGH A WALL AND SCREAMING ALL THE TIME. Advance three spaces!
10.) Older child gets lice. Lose a turn. Pay $50 for lice shampoos and wire combs.
11.) You get lice. Lose a turn.
12.) You briefly thank your lucky stars that younger child does not have enough hair to get lice. Advance one space! YOU WILL WIN THIS GAME IF IT KILLS YOU AND OMG, THE GAME KILLING YOU LOOKS LIKE AN ACTUAL, REAL POSSIBILITY.
13.) Younger child begins sleeping longer. YES YES YES, FINALLY, THE HOLY GRAIL OF BABY HAVING, YOU HAVE ATTAINED IT!  ADVANCE ONE SPACE!  THIS GAME IS STARTING TO TURN AROUND!
14.) Older child gets pinkeye. Go back three spaces
15.) Older child infects younger child with pinkeye. Go back four spaces.
16.) Younger child gets extreme congestion/chest cough. Go back five spaces.
17.) Younger child reverts to sleeping in two-hour stretches due to congestion. Lose a turn.  Return to beginning of board.  Pay $1000 to health insurance provider for WHO-EVEN-KNOWS-WHY.
18.) Your sciatica returns as you are once again sleeping in two-hour stretches. Lose a turn.
19.) You develop chest cough and extreme congestion. Lose a turn.
20.) COME. ON. Lose a turn.
21.) That's not fair! You can't just—Lose a turn.
22.) STOP IT! Lose a turn.
23.) COMPLETE EMOTIONAL COLLAPSE DUE TO A COMBINATION OF ILLNESSES, SLEEP DEPRIVATION, UNATTENDED PTA MEETINGS, PHYSICAL DISCOMFORT, FINANCIAL ANXIETY AND DEEP, DEEP SADNESS OVER YOUR SEEMING INABILITY TO MOVE FORWARD IN ANY SORT OF MEANINGFUL WAY. DO NOT LOSE A TURN.  DO NOT GO BACK ANY SPACES.  DO NOT GO AHEAD ANY SPACES.  DO NOT COLLECT OR PAY OUT ANY MONEY.  STAY IN ONE SPACE AND CRY FOR A LONG TIME UNTIL THE GAME BOARD IS SATURATED WITH TEARS. 
24.) WHY
25.) IS
26.) THIS
27.) SO
28.) HARD?????????????
29.) Younger child begins smiling. Move forward 30 spaces.
30.) Older child bonds with and is incredibly sweet with younger sibling. Move forward 100 spaces.
31.) Younger child suddenly sleeps well and smiles constantly. You and younger child spend hours smiling at each other and gazing into each other's eyes.  Move forward 12 billion spaces.  Continually circle the game board until you have worn a groove through the cardboard and collect all the money and all the points.
32.) Get approached by a stranger who goes, "Oh, are you playing that game? How is it?  I was debating playing it."
33.) Look up with tears in your eyes. Go, "Oh, this?  It's fantastic, you should totally play."
   *                  *                   *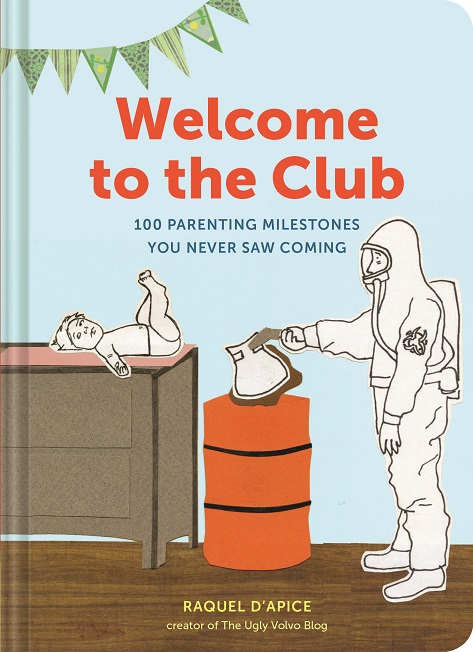 Hi, I wrote this book which is a super great gift for someone about to have a baby.  Or anyone who's recently had a baby and is currently going WHOA, IS THIS WHAT HAVING A BABY IS LIKE, THIS IS NOT HOW IT LOOKED IN MY HEAD.  You can buy the book at Amazon, Target, Barnes and Noble, and Indiebound.  
If you want to follow The Ugly Volvo on Facebook or Twitter, you can do that too.  
Here is one additional link to buy the book disguised as a link for a delicious spaghetti recipe:  WORLD'S BEST SPAGHETTI RECIPE, RIGHT HERE!  CLICK TO GET IT! (wink wink) SUCH GOOD SPAGHETTI YOU'LL NEVER BUY STORE BOUGHT PASTA AGAIN!
Happy holidays  🙂